Our Process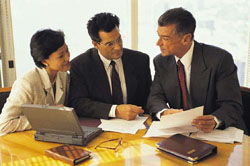 Our goal is always to understand your circumstances to create a customized financial plan to help you make sound financial decisions. Our five-step process is designed to create a plan to help clients obtain their financial goals and objectives.
Help define your financial goals and design a financial plan to meet your particular needs, tolerance for risk and timeframe.
Analyze the risks and potential rewards of specific investments and provide investment recommendations.
Execute your financial plan, monitor your progress and make adjustments to meet your changing financial goals or to address changing investment markets or tax laws.
Provide guidance during volatile or difficult market conditions and help you understand the value of a long-term investment strategy.
Determine when and how your assets should be distributed, taking into account your sources of income, financial needs, taxes and many other variables.
" Failure to Plan, is a Plan for Failure" - Benjamin Franklin